✓ A KILLER WORKOUT BOOST... from PROVEN Aminos and Compounds

✓ A KETO-FRIENDLY PREWORKOUT

with NO Sugars and Fillers

✓ The Power You Want In The Gym Without Relying On Stimulants
✓ SCIENCE-BASED DOSAGES WITH NO HEARSAY OR BS

✓ A MADE IN THE USA Product you can trust for everyday use...

✓ The LAST PREWORKOUT YOU'LL EVER NEED... from a results-focused premium-quality manufacturer. - WITH A FULL NO RED-TAPE GUARANTEE.

YES! I'm Ready for a SCIENCE-BACKED KETO-FRIENDLY WORKOUT BOOST Without Caffeine, Immediately!
CLICK THE VIDEO BELOW TO LEARN MORE:

FOCAL FORCE CAFFEINE-FREE:

THE PROPERLY-DOSED - KETO-FRIENDLY - CAFFEINE-FREE PREWorkout

THAT BOOSTS YOUR PERFORMANCE WITH SCIENCE ⚛ NOT FILLERS.

IS THEOBROMINE THE ANSWER TO PRE-WORKOUT JITTERS AND PANIC?
FIND OUT WITH A 60 DAY NO-RISK TRIAL AND MY PERSONAL 110% MONEY-BACK GUARANTEE!
JOIN THE HUNDREDS OF FOCAL FORCE SUBSCRIBERS WHO NOW ACCESS

A PURE, HIGH-GRADE SUPPLEMENT, TODAY... WHILE I HAVE STOCK.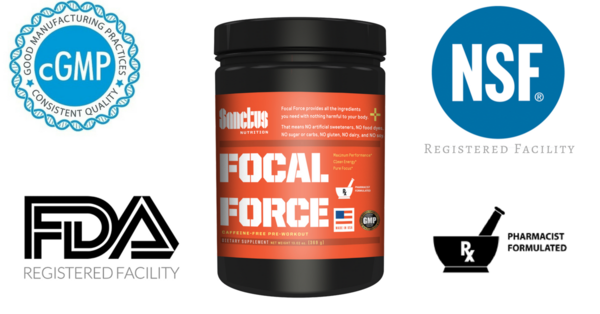 John T.

⭐️⭐️⭐️⭐️⭐️

Verified Buyer

01/19/19

Best pre-workout I have ever used

Almost stopped using pre-workouts entirely because of all the jitters. Felt like I was putting unnatural junk in my body.

Focal Force has all the push without the weird jitters and uncomfortable crash.

If you are serious about your performance, use this.
✧ WHO ELSE WANTS INGREDIENTS THEY CAN TRUST? ✧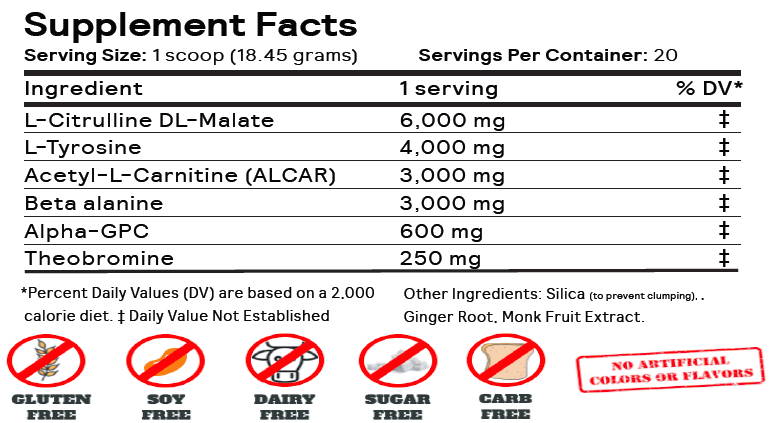 ❌ NO FILLERS
❌ NO FLAVORINGS
❌ NO HEARSAY

❌ NO GUESSING

❌ NO BS

Attn: Pre-Workout users...


"Finally! How To get an incredible workout boost without harsh stimulants"
(So you DON'T have to mega-dose yourself with caffeine)
✧ Get a KILLER workout Day or Night

✧ Feed Your Body the RIGHT Ingredients

✧ FEEL the blood pumping

From: Dr. Alex Brewer

RE: Stim-Free Pre-Workouts
Dear Pre-workout lovers who want purity,

If you want to get a science-backed boost, to KNOW what's in your pre, and especially if you want to get noticeable results from your pre-workout without caffeine jitters, addiction, and tolerance... then this is the most important letter you'll read all year!

Here's why...

Because most pre-workouts simply don't have what it takes, and they're loaded with destructive levels of caffeine and artificial non-sense!

UNDERSTAND:

I spent FOUR years creating FOCAL FORCE just to make a pure product that boosts performance based on SCIENCE, not caffeine. I wanted to make it appropriate for the KETOGENIC DIET ...FREE of Harsh Doses of Stims that Ruin Long-Term Performance ... AND make sure it still gives you STRONG boost in the gym.
Dawn W.

Verified Buyer

10/10/18

⭐️⭐️⭐️⭐️⭐️
WoW!

Referred by a fellow Keto friend. I was looking for a pre that did have any artificial colors or flavor. This is honestly the best pre workout I've tried. I'm not a big fan of caffeine driven workouts. This product delivers a giant force in pump and focus. The only negative thing I have to say about it is the taste. But to me it's fine because I drink pre for what it delivers not for taste. Will purchase again. Will recommend to anyone.




Here's how and why we can make you this promise...
My name is Dr. Alex Brewer and I'm a pharmacist and long-time pre-workout user.

I spent 16 years trying to find a good pre. One that didn't contain a lot of BS ingredients or fillers, and one that relied on proven research instead of stimulants and "a little bit" of the good stuff.

My pre-workout is going to give you the right does of PREMIUM amino-acids that empower your performance in the gym. Period.

Najat S.

Verified Buyer

11/27/18

⭐️⭐️⭐️⭐️⭐️
Great preworkout!

I absolutely love this preworkout. I only want to consume caffeine in my morning coffee and this allows me to put in a solid workout without the extra jitters. I have since recommended it to my colleagues and clients in a big box gym! My only suggestion is to probably have a shorter scoop.... Otherwise, just marvellous!

Michael M

Verified Buyer

10/05/18

⭐️⭐️⭐️⭐️
Best pre-workout

I've been using Focal Force now for over a year and have found it to do everything it says. The caffeine-free version in particular is ideal for me as I tend to work out later in the day. If you want a clean pre-wo, give this a shot.

You're not going to get a reliable LONG-TERM boost from pres that use too much caffeine, because you'll develop a tolerance to them just like you do coffee!
JUST LOOK AT THE LABELS ON THE CHEAP STUFF!
If you do the research (from a pharmaceutical perspective) like I have, it's pretty damn obvious that most of these are under-dosed and loaded with experimental BS, when they should be focusing on PROVEN ingredients like: L-Citrulline ... L-Tyrosine ... ALCAR ... Beta Alanine ... and Alpha GPC.

In Fact, Here's Just The Tip of The Iceberg of What You Get WITH FOCAL FORCE...
✓ You'll discover exactly what a pure pre-Workout feels like, and how awesome it is

✓ You'll stop wasting time and money with cheap alternatives that are really just HYPED-UP crap

✓ You'll find the last pre-Workout you'll ever need

✓ You'll avoid the JITTERS, PANIC ATTACKS, and NERVOUSNESS a lot of pre users get from Caffeine-loaded products

✓ You'll get a great workout ... and feel better afterwards ... because the xanthine alkaloid we use ...THEOBROMINE ... is shown to help You relax After

Rachel C.

Verified Buyer

05/24/18

⭐️⭐️⭐️⭐️⭐️
Ketogenic Love for Focal Force!
I love the thought and care that has gone into the formulation of this product. As a ketogenic athlete, ingredients matter to me A LOT. Alex and his team have formulated a quality product that I feel comfortable taking while following this lifestyle. And I can take it morning or night with the option of a stim-free version. This is the product I've been searching for. Thank you Alex and thank you Sanctus Nutrition!!

If you take the time to FEEL how different FOCAL FORCE CAFFEINE-FREE is for yourself, you'll very likely agree that this is a FIVE-STAR product, just like so many of my users already have told me.

Also...
✓ When you boost the right way, you can KNOW that you're not loading your body up with 'who-knows-what' crap... BUT still feel an AWESOME boost!

✓ And you can feel relaxed after your workout too, without the residual effects of stim-dosing

✓ Imagine passing FOCAL FORCE around the gym after you feel it yourself, and showing everybody how a PREMIUM Pre-workout feels.


So Here's The Bottom Line With FOCAL FORCE CAFFEINE-FREe:
You get a PREMIUM, noticeable workout boost without caffeine, sugars, and fillers! - Suitable for the KETOGENIC DIET in every way, and dosed in science-backed quantities.

You get all of this for only $47.99 at the one-bottle price... about $2.39 per workout ... Less than you spend on a good sports drink or a fancy coffee.

Really, an INSANE deal for a USA MADE, Pharmaceutically-Designed Pre-Workout with NO fillers. - Backed by a HUGE Guaranteed.


But Let Me Sweeten The Pot For You Even More With These Instant Bonuses For Acting Now...
SPECTACULAR BUYING OPTIONS!
Try just one bottle of FOCAL FORCE with my Unlimited Guarantee today ... OR ... Get a sweet discount on three bottles so you can pass it around the gym or share with a friend.

PLUS... if you KNOW you love FOCAL FORCE or need a KETO FRIENDLY product like this already, you can lock-down an automatic purchase plan and I'll send you a bottle every month...
THE LOWEST PRICE I can charge, guaranteed.

Minimum Financial Value: $8.97 High End: $120+ Saved Annually (that's almost 3 free bottles)

8.5% OFF YOUR FIRST BOTTLE TODAY!

When you order your first bottle of FOCAL FORCE today, I can give you a 8.5% discount on a PREMIUM USA-MADE SUPPLEMENT...

...the maximum one-time discount my accountants say is safe.

That's like two free doses of the finest pre-workout you're likely to find

FOR FREE!

JUST ENTER: FOCALFORCE85 at the checkout.
TAKE A FULL 60 DAYS TO PUT FOCAL FORCE

TO THE TEST WITH OUR IRON-CLAD,

MONEY BACK GUARANTEE

If FOCAL FORCE CAFFEINE-FREE doesn't give me exactly the Science-Backed, KETO-FRIENDLY Pre-Workout Boost I want ... if it doesn't meet my expectations when it comes to purity, dosing, and KNOWING what's in my Pre... or if it fails to help me get noticeable results without Caffeine Jitters and Tolerance, then I understand that I will receive a full refund, No Questions Asked!!
As you can see all the risk is squarely on my shoulders, so...
HERE'S HOW TO ORDER RIGHT NOW

Go ahead and click the order link now and you'll be on your way to enjoying all the benefits we've talked about here and more when you start having insanely good workouts, and can feel relaxed afterwards!

Let's get started right now!

To better workouts, with no BS.

Dr. Alex Brewer

P.S. - I don't run marketing campaigns very often because I don't always have the stock to do so. We're not some huge conglomerate. I'm just a pharmacist trying to bring a superior product to the market. The truth is, I could sell out at anytime, and FOCAL FORCE isn't always available to the general public. Act now and order while I still have stock